By Scott McAfee.
Like any other industry, death care evolves and experiences shifts in how things are done over time. One of the last significant shifts occurred in the early 19th century when disease and overcrowding made it unsafe to continue churchyard burials. Since then, traditional cemetery burials have been the norm and there have been few changes to the burial process overall. Now, with the natural resources necessary for traditional burials dwindling, processes must be re-evaluated. That's where eco-friendly cemeteries come in.
With today's complex technology, there are many innovative ideas about the next big thing in death care. One thing is clear: it needs to be greener, more natural and more sustainable.
According to the National Funeral Directors Association 2022 Consumer Awareness and Preferences Report, 60.5% of consumers would be interested in exploring green funeral options. This number is up from 55.7% in 2021 and is likely to keep rising.
"As people look for more eco-friendly, affordable and personally meaningful ways to do just about everything, green burial and the natural processes leading up to disposition mirror, for many, the way they strived to live their lives – environmentally responsible and in harmony with nature," Andra Olney-Larson, operations and sales manager of Casper Creek Natural Cemetery in Galena, Illinois, said. "Survey after survey shows that interest in natural burial is growing, and the conversations held with each family who learns about Casper Creek confirm that truth."
Casper Creek is a conservation cemetery. According to the Conservation Burial Alliance, conservation burial grounds are defined as a type of natural cemetery established in partnership with a conservation organization. These cemeteries follow a conservation management plan that upholds best practices and provides perpetual protection of the land according to a conservation easement or deed restriction.
Conservation cemeteries work to actively restore the natural landscape and protect it from the harm caused by burial processes.
They take their ecological commitment further than simply providing green burial services. These cemeteries must adhere to certain standards, such as: periodically conducting an Ecological Impact Assessment; using operational and burial practices that have no negative long-term effects on the natural habitat; limiting the type and size of markers; limiting allowable burial density, and conserving or restoring a minimum of 20 acres or 5 acres if contiguous to other protected land.
"As a conservation cemetery, the carefully planned environmental restoration on our grounds is compatible with natural burial in a way that no other kind of cemetery could accommodate, Olney-Larson said. "The unpredictable beauty of the prairie and the appreciation of that beauty by our families means that the land can be tended to with a focus on natural elements rather than manicured lawn maintenance.
In the early stages of creating Casper Creek, the business team experienced the usual challenges that arise for new burial grounds, such as location and state licensure. As a conservation cemetery, they also had to carefully consider the environment of the location and the standards of their conservation partner, the Jo Daviess Conservation Foundation.
"It was important that our location was both environmentally and ethically sound, and that Casper Creek was meeting the needs of the community and the Jo Daviess Conservation Foundation a 501(c)(3) to whom a portion of proceeds from each contract goes as a donation to support their stewardship, outreach and education efforts," Olney-Larson said.
She also stressed the importance of keeping the board of directors educated and informed throughout the process of opening the cemetery and the value of their support. The board was unanimously in favor when they voted on whether to create Casper Creek.
"Effective communication with industry members and neighbors is key to going green. It is necessary to reach out and understand the concerns and questions that others can have about operations and protocols in a natural burial ground," Olney-Larson said. "Every constituent needs to receive correct information about the cemetery in order to feel included and have a voice."
Backed by a diverse group of supporters committed to providing the Midwest with natural and restorative end-of-life options, Casper Creek opened to the community in early 2021.
"Many of those who learn about green burial immediately connect with it and say they never knew it was possible, but it was the kind of goodbye they had always wanted. As the movement grows and familiarity with the concept blossoms, stories emerge from our families of closure, peace, and feeling harmonious with nature," Olney-Larson said. "Natural burial is inherently linked to encouraging people to feel at rest with their decisions."
Conservation cemeteries give grieving families the opportunity to take part in sending off their loved ones, offering a more intimate ceremony and a special type of closure.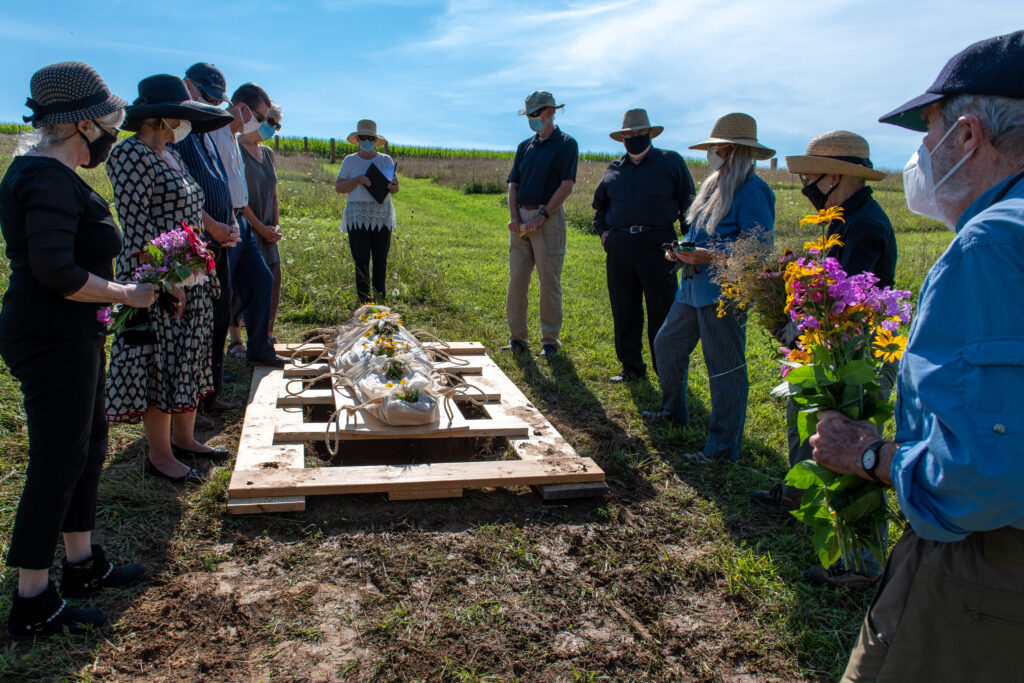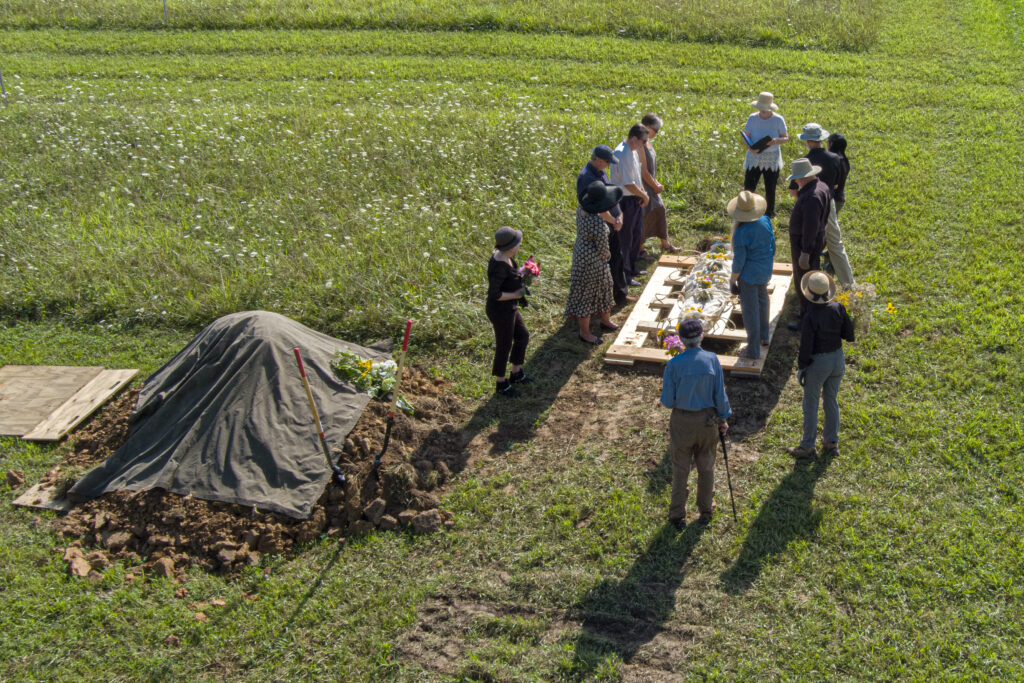 Another consideration for operations like CCNC is the rules and regulations that must be upheld to maintain their status as a conservation cemetery. The standards Casper Creek has to meet and uphold are as much an operational consideration as they are an attitudinal one.
"In order to protect our land, our values, and the best interest of all those we serve, CCNC has comprehensive rules and regulations that help define everything from the kinds of memorial stones families may choose to the protocols that are followed for every contract completed," Olney-Larson said. "These guidelines ensure that fairness, equality and the highest standards of conservation burial are upheld. Those that specifically lead our green burial requirements are, at their heart, very simple. A natural cemetery inters bodies that have not been embalmed using a biodegradable container without a grave liner or vault. In our cemetery, cremated remains may also be interred using biodegradable containers and placed in the ground without a vault."
By employing these nature-friendly methods to protect the land, Casper Creek is helping to ensure the protection and restoration of the shortgrass prairie, which includes more than 160 species of plants, such as little bluestem, purple coneflower and calico aster, to name a few.
Olney-Larson also explained that cemetery size is not a restrictive factor in going green.
"For those smaller cemeteries doing their best to provide (green) services and care for their clients, taking the step to provide natural burial options is the way toward a sustainable future," she said. "Our cemetery is only 16 acres, most of which is green space. Size is not critical but offering the option of natural burial is crucial for all cemeterians."
There are valuable resources available for cemeteries interested in learning more about green burial options, such as the Green Burial Council and the Conservation Burial Alliance.
While the general public and even some death care professionals are unaware of natural and green burial practices, that is beginning to change thanks to places like Casper Creek Natural Cemetery. Although the idea of natural burial is still new to many cemeterians, public opinion is quickly beginning to favor it. In many ways, these cemeteries are trailblazers for the future of death care, creating a path for other cemeteries to follow.
To read the full article, subscribe to American Cemetery and Cremation magazine here.